I haven't yet touched on Italian food so when thinking about this blog post I asked myself what Italian dish do I really like, and why. What do I order a lot when eating at and Italian restaurant? More often than not I go for gnocchi. There's just something about the texture of gnocchi, kind of chewy (moreso than regular pasta) which makes it kind of unique. I feel the same way about Chinese spareribs. It's not just the taste of a particular food, but the way it feels in the mouth. Enjoying food takes all five senses.
Potato Gnocchi, or Gnocchi for short, is a classic recipe from Italian cuisine. With bolognaise, butter, or just with bay leaves; as a side dish or as the main course, Gnocchi are the favorite dish for many around the world because of their simplicity, taste and heartiness.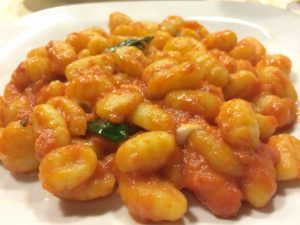 The historic background of this dish from northeastern Italy, later spread across other regions, has its origins in a merely economic reason: During the 19th century, in the decade of 1880 to be more precise, the feudal lords (called Signori in Italy) raised the fees their workers had to pay to use the mills to grind their wheat. Facing the raises in the price of wheat flour, Italian countrymen experimented and had success with a cheaper substitute for flour: mashed potatoes, which are the main ingredient of the classic Gnocchi recipe.
A good recipe to make Gnocchi at home is the following:
2 pounds of potatoes (the drier, the better)
3/4 pounds of wheat flour
1 egg or 2 egg yolks
1/4 pounds of parmesan cheese
Salt, pepper, nutmeg
Making gnocchi is very simple: boil the potatoes until they're soft, peel and mash them until no potato chunks remain. Add the rest of the ingredients and mix them together as if you were making pasta dough, lightly but slowly. Once all ingredients are well incorporated, cut and shape into small balls or their traditional shape. Once the gnocchi are cut, they must be cooked in boiling water with salt. Let them cool and serve.
Gnocchi can be colored with spinach or beets, for a different presentation. When served as a main dish, gnocchi will usually be accompanied by some sort of thick gravy or a stew, such as bolognaise or lamb. Also, uncooked gnocchi can be refrigerated and stored for later consumption, up to 5 days.
Gnocchi is popular in many Italian restaurants and one I recommend in Sun Valey is Casa Nuova at 8759 Glenoaks Blvd, Sun Valley, CA 91352. It's been a Sun Valley fixture for decades and it's a great place to go with the family.