Sun Valley, CA Native Goes Meatless and Fishless
Join Chef Jose Mier—that's me–coming to you from my Sun Valley California commercial kitchen. This time I'm not discussing anything commercial rather in my family do during the season of Lent. Most Christians know that lent precedes Easter and it's time to give up things as sacrifices before Easter. Some people give up a certain thing as a specific sacrifice, such as chocolate or alcohol but in general and primarily for Catholic people is giving up meet on Ash Wednesday in the Fridays of lent.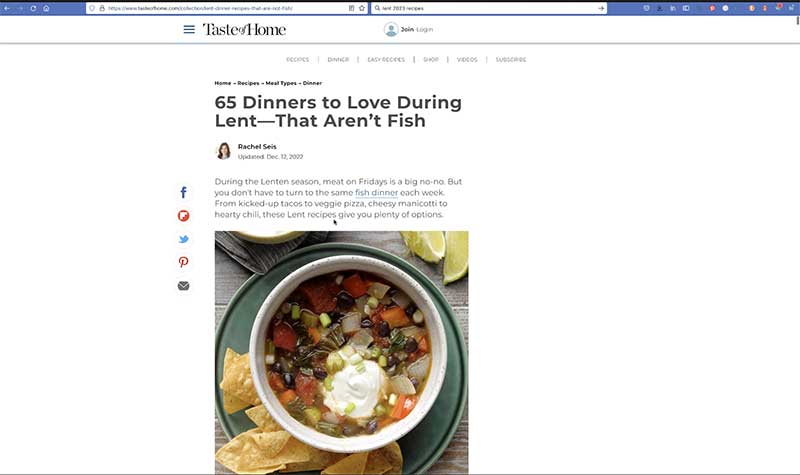 For centuries people have substituted fish is there a protein of choice instead of meat. In fact in olden days Catholics do not eat meat on any Friday but now it's just during lent. But what is someone like me to do that doesn't really like fish? It's something I ponder every year and I come up with alternatives such as meatless pasta dishes or meatless pizza but this year I wanted to look into variations and other alternatives. With that in mind I did a search online for recipes for lent in 2023. One of the first things that popped up results what is the taste of home.com website which appropriately enough had an article listing 65 different recipes that you can prepare for lent which do not include fish.
This is right up my alley since I'm not a fish fanatic and you will find me hanging out at McDonald's purchasing any fillet O fish anytime soon. What's more, 65 recipes is more than enough to cover the entire period of lent, which this year will go from February 22 through April 6. A few recipes jumped out right away which included familiar fare like pasta but the number one recipe on the list was for a black bean soup. Not only did the image look appetizing and make me want to try this recipe right away for my family but it Came with its own instructional video. What could be better than that?
Coming from a Latino background, Black bean soup such as this fits right in with my heritage which is neither here nor there but I just happened to have a lot of black beans on hand so I don't need to rush out to buy to make this recipe. You may not know this beans especially when combined with something like rice we'll provide a significant amount of protein. So for this recipe beans are replacing me that we usually have Friday or some other day of the week but They're also replacing that Fish that I really don't want so for me it's a win win situation.
As you can see in this article I've linked to that specific change on the taste of home.com website you can check out all 65 recipes at your leisure. Of course I do love making pizza with or without me so that we'll be one of the staples during my Lenten journey but I will also be perusing the 65 recipes and taking from them a few different ideas to tryout both for me and my family. So if you're looking for you lent recipe ideas join me, Chef Jose Mier as we together experiment with some new Foods for this season.
Summary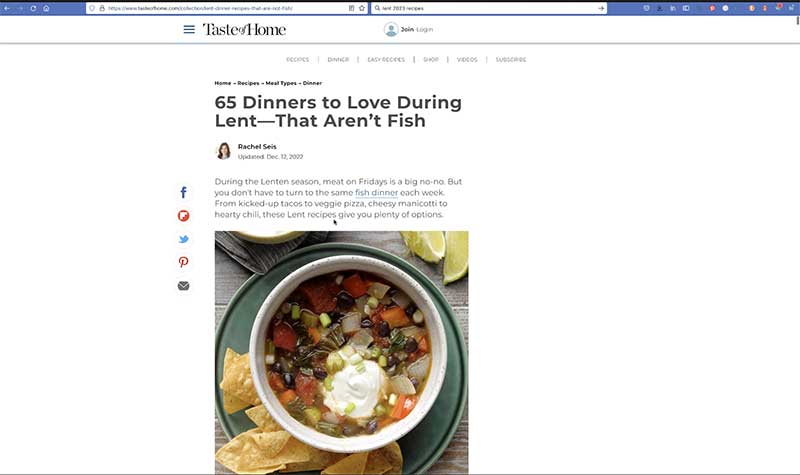 Article Name
Recipes for Lent With Chef Jose Mier
Description
Recipes for Lent With Chef Jose Mier is about the search for meatless and fishless lenten dishes in Sun Valley, CA
Author
Publisher Name
Publisher Logo