Turkish Cuisine is a spicy mix of both Middle Eastern and Mediterranean food. Falafel is a fan favorite, which uses balled chickpea crumbles that are deep fried. Falafel can be served in a pita and topped with some veggies. The Falafel is usually served with a nice yogurt sauce too. Simit is a popular bread in the country among families. It is a circular bread that is topped with some sesame seeds. See the Simit served at the dinner table for the family. Grilling veggies is very popular during summer for Turkish families. Grilled eggplant and cucumber are often staple meal items to serve too.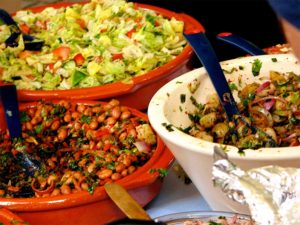 Kaskaval cheese is a national icon for Turkish cooks. It has a mild flavor and is made using some traditional techniques. A wedge might be served with bread and diced veggies. Or the Kaskaval cheese might be shredded atop a hot meal for dinner. Tuzlama is a tripe soup that is common for local families. It takes some time to boil down the tripe, but the end result is worth it. Borek is an appetizer that is popular and can vary a bit. It typically has shredded meat and onions inside of it. Peppers may be included for a little extra spice for diners.
Desserts are a big hit with Turkish cuisine fans. Sutlac is a rice pudding that has a Turkish spice to it. The custard is baked and served to guests with some spice toppings. Baklava is very popular, since it includes some sweet honey and pecans. The crispy dough adds a nice crunch for the Baklava dessert. Turkish Delight is a common dessert and makes the rounds at many weddings. Different flavors include strawberries and bananas for Turkish Delight. Some powdered sugar is added and the sweet treat can be shared too.
The closest Turkish restaurant to Sun Valley is Shish Mediterranean Cusine which is at 11052 Ventura Blvd, Studio City, CA 91604.