Jose Mier here again with a bit of fun. I'm always looking for new ways to experience food (and as I've said we use all five senses to enjoy food). Every once in a while we need to have a little fun and there's something really enjoyable about an all-you-can-eat style of service. Take churrascaria, for example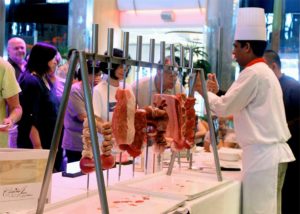 Brazilian Churrascaria is a juicy, magical dish prepared by skewering large chunks of meat with long pieces of wooden or metal stakes and grilling them over a churrasqueira. The type of meat used for preparing the Brazilian Churrascaria varies but the commonly used types are chicken, pork, steak, and sausage. To make the Brazilian Churrascaria tasty and exceptional, a skewered, barbecued meat is seasoned with different ingredients including kosher salt, garlic cloves, lemon juice and olive oil.
The Brazilian Churrascaria is famous across the world as it has become synonymous with some of the world's best meat. However, there is another hidden secret behind its fame called espeto serving style. In this serving style, the waiters hold mouth-watering skewers of ready Brazilian Churrascaria https://la.eater.com/maps/11-places-to-eat-brazilian-bbq-in-los-angeles in their hands and walk around the restaurants serving the customers. At the customers' tables, they chop off as much meat as they need on their plates. Clients can request as much of the Brazilian churrascaria as they want until their appetites are fully sated. This serving style is considered a source of fun for many hungry eaters and many bring along friends and family and challenge each other as to who can eat the most.
Brazil is credited for churrascaria because it has played a critical role in putting it on the map. However, its origin is not in Brazil but rather from surrounding regions on the borders of Argentina, Paraguay, and Brazil since the late 1600s. The indigenous people who lived in the area practiced a semi-nomadic life, and they would skewer their daily hunted meat on wooden skates and roast them for community members. Because of the changes in ways of life, most of the people in Brazil became ranchers but maintained this tradition by designing special churrasqueiras to grill the Brazilian Churrascaria. Every meat lover must find an opportunity to taste the magical Brazilian Churrascaria dish.
Churrascaria restaurants aren't on every corner so if you're in Sun Valley and looking to experience this, your best bet is probably Samba Grill, up at Universal Citywalk.