One of the foods I love to have occasionally is something we don't often think of. At least in my neck of the woods. Here is the Sun Valley, CA area, our go-to eateries are usually Mexican, Chinese or Italian. Pizza is always king in America. Yet every so often I do get the urge to feast upon some authentic German food.
Granted, unless you're going to a full-on sit-down German restaurant you're probably going to miss out on wonderful dishes like Saurbraten which (depending on the recipe) can have hints of tartness and/or a little zip from the addition of ginger snap cookies to the gravy.
Saurbraten is great to try but the preparation can take days so it's more of a special treat rather than an everyday sort of dish. For most of us, our experience of German food is more on the quick and easy side with many of Germany's famous sausages. Of course the most famous of these is Bratwurst.
Bratwurst is readily available throughout the US and it's become almost as well-known as our traditional hot dogs. Quality and authenticity will vary depending on where you buy yours. However, let's just assume you've got the best Bratwurst around.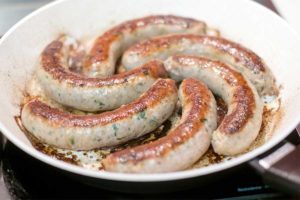 What is it, exactly? Bratwurst, compared to other dried forms of sausage is made from fresh pork and veal. The seasonings vary regionally, but in general it's flavored with caraway, coriander, and maybe some nutmeg.
One popular recipe involves cooking the brats in a pan with onions and other seasonings. Many of us here will then take the cooked brats and slap them in a bun to eat like a hot dog. Speaking of which, if you're looking for German cuisine in Sun Valley, one of our famous local food trucks is Germany's Famous Bratwurst at 7782 San Fernando Rd.
They serve (what else) bratwurst as a sandwich (dog) along with other German staples like potato salad. If you're hankering for a bite of German food to break up your food routine you should try a bit of Bratwurst next time. Make it authentic with a good German beer! Prost!