I remember the first time I ate Thai food. It was similar to Chinese, yet unique. I do love Chinese food, but that doesn't mean I can't love Thai food just as much. And I do. I really do!
Thai Food is quite varied and features natural ingredients from the region. Pad Thai is the national dish of the country for a reason. Noodles are combined with veggies and topped with a spicy peanut sauce. The basic ingredients often include chicken and lemon grass for flavor. More spice can be included and peppers are sometimes tossed in to the mix. Thai Food also includes the lemon grass soup option for guests. Lemon grass soup is a simple concept, with some broth being spiced with the lemon grass. Added ingredients could include peppers for spice and chicken for the protein.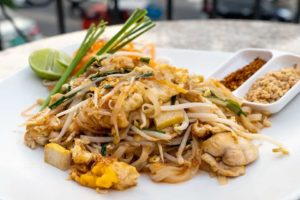 Appetizers include a lot of finger food, which is fun for some people. Spring rolls are a common request, which can be complicated to make. Julienne carrots and diced chicken often go in to the spring rolls. Cabbage and subtle spices are also included in the mix. The thin wrap will allow the ingredients to show through for patrons. Peanut satay is also a top request when it comes to Thai food. Grilled and marinated chicken strips are served to the guests. A side dish of peanut dipping sauce is also offered. Simple use the stick to dip the peanut satay chicken whenever it is needed.
Desserts are popular and quite varied with Thai food entries. That includes Khanom tan, which is a small cake topped with diced coconut. Bua loi is another favorite dessert in the country. Some mashed taro root and pumpkin are the primary ingredients for the cake. The small balls are then boiled and topped with coconut milk in a dish. Roti Saimai is a new dish that is gaining popularity. It is a Thai version of cotton candy that is wrapped in roti. It is a sweet and savory dish that true fans will want.
Chai Thung is a great Thai restaurant in Sun Valley where you can try a number of dishes including the celebrated Pad Thai. It's located at 8430 Sunland Blvd, Sun Valley, CA 91352.