Jose Mier here with another suggestion for your next dinner party. I'm making the jump across the "pond" this time to France for my inspiration. I think I'm partial to "historical" dishes—those with name recognition—but for whatever reason have not sustained themselves as common dishes we serve. Hence, ratatouille.
Sure, the name gained some more recent popularity due to the movie that came out several years ago, but I don't think that film's popularity did much to bring the dish to American tables. That's a shame. It's a great, flavorful dish that will accompany many different dishes.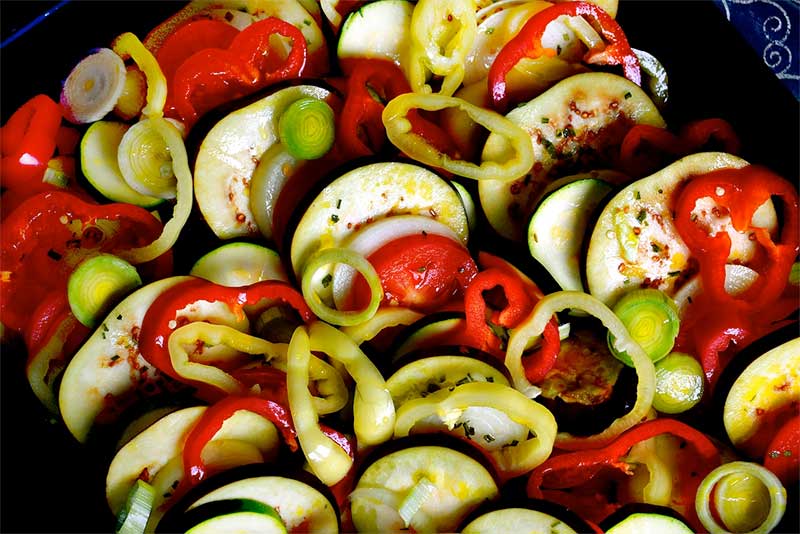 In its most basic form, ratatouille is dish of sautéed vegetables including tomatoes, garlic, onion, zucchini, eggplant and bell peppers. There are regional variations of the dish from other countries too, but the origin of this dish is France, specifically Nice. The garlic seems to be a hallmark of southern France and the further south one goes, the more garlic plays a role in cooking.
Jose Mier Makes it Easy
Wikipedia states that the dish is relatively new; first appearing in the late 1800s. Methods for cooking the dish are varied, and some even suggest cooking each ingredient separately. That's too much trouble for me. I want to keep things as simple as possible but that doesn't mean you can't get creative, especially with the presentation, which is half the delight in addition to smell and taste.
The video I'm including here makes great use of the shapes and arrangement of the vegetables in concentric circles. You don't need to be as creative but why not?
You can serve this flavorful dish on its own as a vegetarian option with some crusty, toasted French bread or use it as a side dish for whatever you wish. It's up to you.
Tasty.co has their own version (and I did say the number of variations is legion) which you can try. Regardless of which you choose, it's an easy, tasty and colorful dish which will entice your dinner guests. Bon appetite!
Looking for ratatouille in the Sun Valley, CA area? Perhaps the closest is Le Petit Restaurant at 13360 Ventura Blvd in Sherman Oaks. The resatuarant is known for southern French cooking and Mediterranean dishes which would, of course, use more of my beloved garlic!