I scour the internet for interesting dishes to share with you, my loyal readers. So, on the heels of another easy Jose Mier favorite, Mongolian Beef, I found a steakhouse-inspired recipe that makes use of the same techniques: garlic butter steak bites.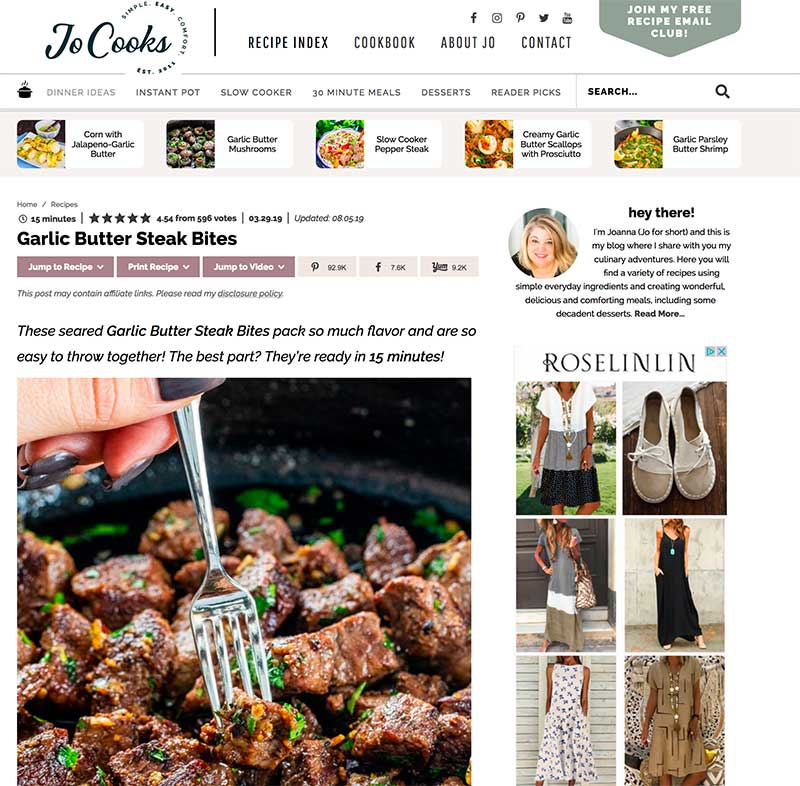 This is the brainchild of Joanna, a chef from Alberta, Canada. Canadians are known to be just as dedicated to good meats as we are in the United States. This recipe packs all the flavors you'd find at your favorite steak house but the best part is it only takes 15 minutes to prepare from start to finish.
Like the Asian cooking I referenced in my last post, cutting meats into smaller pieces reduces the cooking time substantially so grab that good cut of beef and chop it up. The other ingredients? Garlic. And who doesn't love that. Butter, olive oil, salt and pepper, some red pepper flakes for extra spice and parsley for a fabulous presentation. Chef Jo shares my opinion on food and agrees that we "eat with our eye" before we put the first bite into our mouths.
Jo starts with sirloin steak but any good cut of beef will be fine. The bite-sized pieces of steak are tossed into a single skillet and browned (she recommends not moving them for at least 2 minutes)/ Once cooked, butter and other ingredients are added and cooked on a lower heat for 30 seconds until the butter just starts to brown (which releases even more flavor to the dish).
After removing the beef to a plate, drizzle the remaining butter on top of the bites. They can be served as a regular main dish or as appetizers—simply skewer with toothpicks. The combination of beef, garlic and butter will be too much for your guests to ignore so be prepared for a lot of empty plates. And it's so easy to prepare you can always whip up more in another 15 minutes if need be.
For steak in my neck of the woods (Sun Valley, CA) I often like to go to Outback. I can get my fill of beef without breaking the bank like I sometimes do at pricier steak houses. Mine is at 1761 N Victory Pl, Burbank, CA 91502. You can join me for dinner and we'll even put a few shrimp on the Barbie!
Summary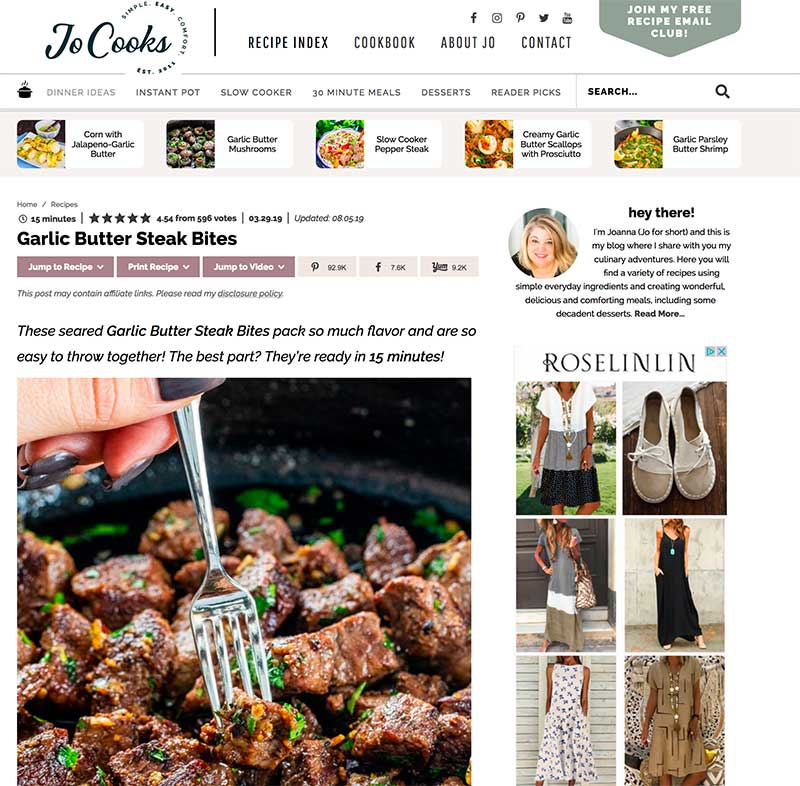 Article Name
More Easy Beef Recipes: Garlic Butter Steak Bites
Description
Chef Jose Mier shares chef Jo's incredibly easy and delicious recipe for garlic butter steak bites. Main dish or appetizer.
Author
Publisher Name
Publisher Logo