Watch Chef Jose Mier Prepare
Bruschetta. Did you know the word itself has its roots in the Latin of ancient Rome? The word comes from "bruscare," meaning to cook over coals. Well, modern day bruschetta may not be roasted (although it could be) over a barbecue grill, the bread used is cooked until crisp and toppings added. The dish itself may go back to the days of ancient Rome, as well.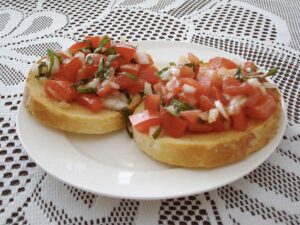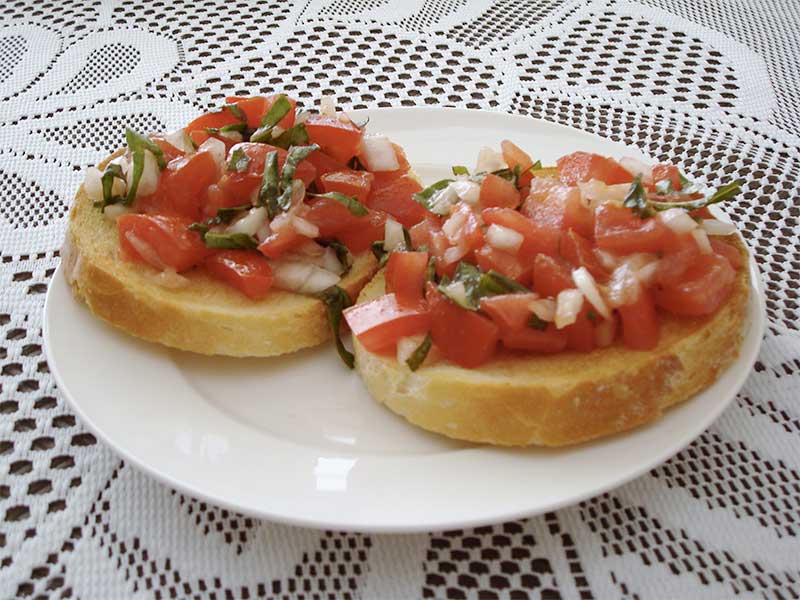 This is another of those favorite foods of the world that is so simple yet so delicious. It's probably because of its simplicity that it made the Taste Atlas list of the 100 favorite foods in the world.
Romans (present day) like their bruschetta even simpler with garlic and olive oil the only things added to the crisp Italian bread slices. It's the regions elsewhere in Italy where the bruschetta we know and love received their familiar toppings: tomato and basil.
If there's a secret to great bruschetta it's the tomatoes. Be sure to choose ripe Roma tomatoes. For the bread, choose a good Italian or French loaf. I like to use the crouton method for toasting these: drizzle the slices with a little olive oil (and garlic) and fry in a frying pan till crisp.
Chop the tomatoes and and garlic, olive oil, basil and salt (recipe here) and toss all together to coat. Then just top your crunchy bread slices and serve.
You see? I told you this is an incredibly simple. But as I said sometimes simple is best. This is also another example of contrasting food. Crunchy bread balances the soft moist tomatoes individually the read of the tomatoes contrasts with the green basil. We may not give it much thought but I think that's one of the reasons we love this dish so much.
Even though it's easy, I Been to many Italian restaurants that just don't get it right, while others do. If you're in my neck of the woods (Sun Valley, CA) and you're looking for some great Italian food go where I go: The Ramp Restaurant which is located at 7730 Hollywood Way, Burbank, CA 91504. Until next time, ciao!
Summary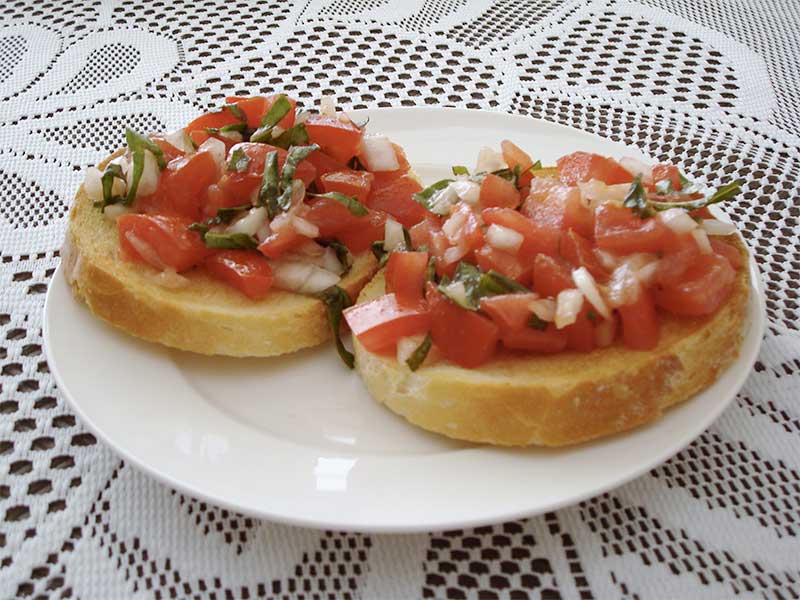 Article Name
Bruschetta: World Favorite From Ancient Rome
Description
Chef Jose Mier shares his "secret" to perfect bruschetta. He uses the same method to toast the bread as he does for croutons.
Author
Publisher Name
Publisher Logo