Jose Mier here in beautiful, sunny Los Angeles. We are a food capital of the world since there are so many ethnicities in our fair city from Vietnamese to Croatian and everything in between. One staple of cooking is always going to be French cuisine and to that end I am suggesting one of the most famous French dishes for your next soiree: Beouf Bourguignon.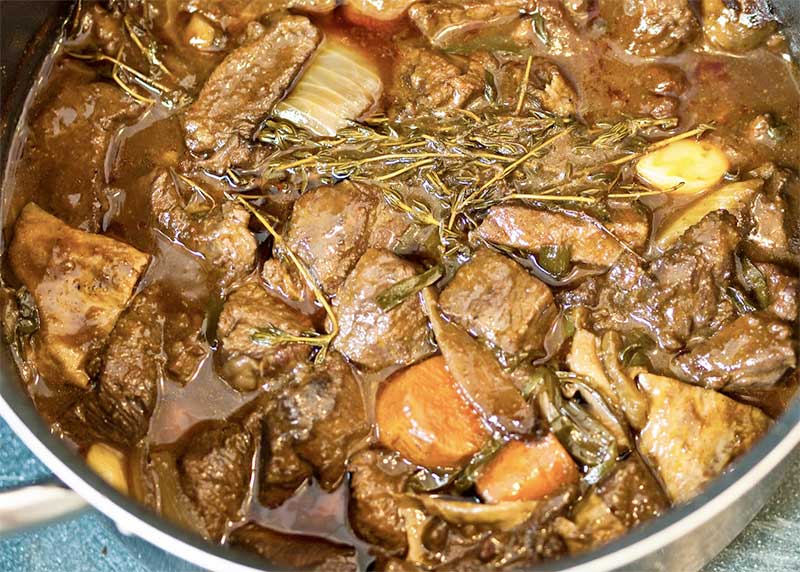 If you haven't tried it, now's your opportunity. In recent Jose Mier posts I have listed some showstopping meals you can serve to wow your guests. This is another. It's not as sophisticated as perhaps Beef Wellington, but it has a cachet all its own. It's actually a rustic dish—a stew, really—but the name and history of the dish (and just the name itself) are impressive credentials that will also make your guests smile at the mere mention of it.
A search for Beouf Bourguignon online will no doubt bring up Julia Child's recipe (or variations thereof). Julia Child, of course, is probably the best know American French chef there is. She made French cooking a household term in her decades on television.
In its most basic form, Beouf Bourguignon is a stew made from beef and braised in red wine (hence the Bourguignon, aka Burgundy) flavored by the traditional mirepoix of carrots, onions (here minus the celery). Bacon and mushrooms, garlic and a bouquet garni round out the dish.
It's not terribly complex and will not take the whole day to prepare—perhaps around 2 hours, but the French name, the aroma and the color of dish will be sure to please your dinner party guests. To go upscale with the dish, chef Ina Garten serves it atop a toasted slice of bread.
This is one dish that is simple yet elegant in its simplicity. Serve with a full-bodied red wine.
Jose Mier Los Angeles Recommendation
If you're looking for Beouf Bourguignon in Los Angeles, one of the places you can find it is Canale (catering) located at 3219 Glendale Blvd., Los Angeles, CA 90039. Phone: 323.666.7133
As they say in France, Bon Apetit!