Jose Mier, gourmand, here once more with another simple yet sophisticated dish to spoil your dinner guests with. I refer of course to steamed lobster. We've come to think of this as an almost out of reach delicacy because it's in the higher price range. Well, that's true for us in Los Angeles since we have to have our Maine lobsters shipped in from clear across the country. That boosts the price considerable. For those lucky enough to live in Maine, lobster is so plentiful and relatively cheap that even McDonald's serves lobster rolls in that state. For this article we are talking about Maine lobster even though we have our own species here on the west coast. For some reason it's the shape, look, color and reputatation of the Maine lobster that makes it the king of crustaceans.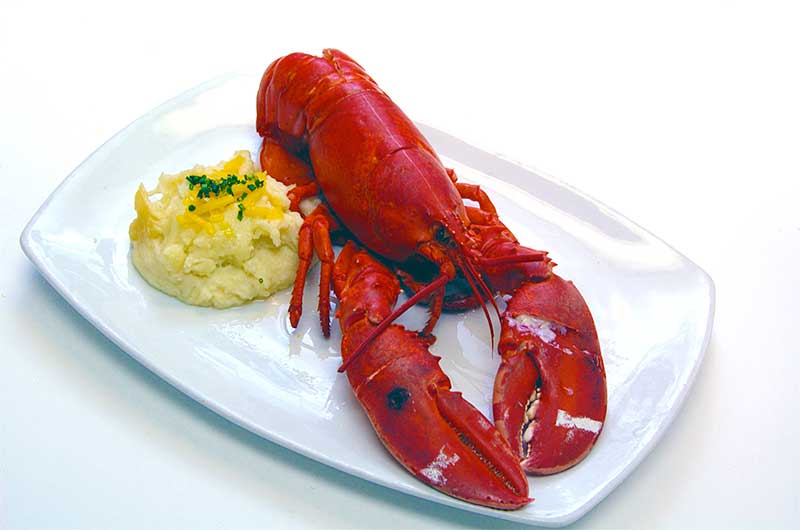 We often envision lobster serve on a white tablecloth accompanied by glasses of fine champagne and we ourselves are dressed in a tuxedo or fancy dress, and it can be like that. The reality however, is that lobster can be part of a backyard cookout with corn on the cob.
Get the timing on the cooking right and it's just a matter of cooking the lobster and serving it. And by steaming the lobster we preserve the tenderness of the meat.
Jose Mier's Sure Way to Entertain
Yes, lobster is pricey but for that every-once-in-a-while blowout for friends, it's just the thing to impress. Cooking is also part of the show that will entertain and delight your guests, making the party that more memorable.
Because Maine lobster brings up so many images and connotations for swankiness, it's ideal for impressing your guests. Maine, of course, wants to promote its most famous dish and they've produced videos telling us "common folk" exactly how to cook it for the best results. Other recipe sites like bonappetit.com will also share their expertise with you.
After the oohs and ahhs die down when you cook the lobster, serving it is impressive too. For side dishes I recommend potatoes (mashed or fried) and of course melted butter and lemon for dipping.
Despite being on this side of the country, lobster can be found almost everywhere—even at your grocery store. If you don't want to cook and like me are looking for steamed lobster in Los Angeles, there's always the Boiling Crab restaurant. The closest location to me is in Burbank at 140 E Palm Ave #210, Burbank, CA 91502 (747) 201-3346. Look for Jose Mier when you're there!